Click to view larger image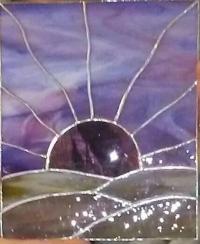 Click to view larger image
SG - Beginner Stained Glass Suncatcher
(CLBSGSC)
Price: $190.48
SALE PRICE: $152.38
Shipping: $0.00
$0.00 shipping handling for additional SG - Beginner Stained Glass Suncatcher
SG BEGINNER STAINED GLASS GEN ORNAMENT
Location: Red Deer, AB
Age Limit: over the age of 18 only
Instructor: Janice Fischer
This class is approximately 10 hours in duration, and you will make a small Suncatcher to take home at the end of the class. The class is based on the Tiffany Foil Method. Choose from the 4 different suncatchers shown. Materials are supplied, as well as instruction taking you through the total process from pattern preparation through to your finished art piece. Please email info@mirogegallery.com or call 403-396-9940 for additional information and registration forms. Class size is limited so preregistration is required. GST is applicable on course fees and is added at checkout. Total course fee including GST is $200, or $160 while sale lasts.