Miroge Gallery & Gifts News
I recently changed my internet credit card provider to Beanstream, and sadly I did not notice that my web people did not remove the AMEX and Discover icons from my form of accepted payment icons at the bottom of the page. Unfortunately, I only accept Visa and MasterCard on my website purchases now. It may take time to get this removed due to financial constraints. I'm sorry for any inconvenience and I thank you for your understanding.


BREAKING NEWS...
Only one craft fair booked for this fall... see below...

I have been asked by the Recreation & Culture programmer in Blackfalds, AB to teach a beginner stained glass course for them between Jan 31 - Feb 21... Registration will be through Blackfalds Recreation.
We recently became distributors for Edco Copper Foil. Check out our pricing under "Supplies & Accessories"
UPCOMING EVENTS:

Our regular hours are: Tuesday through Friday - 12:30pm to 5:00pm
Saturday - 11:00am - 3:00pm
EXCEPT Saturday, Nov 10
Closed for Personal reasons
AND Saturday, Nov 17, 2018
Closed for the Golden Circle Craft Fair



ALBERTA CRAFT FAIRS booked for Fall 2018:
RED DEER: Golden Circle Craft Fair - 4620 47A Avenue,
Red Deer, AB
Saturday, November 17, 2018 - 9:00am - 3:00 pm

RED DEER CLASSES for Fall 2018:

Stained Glass for the Beginner: Ornament Class $80
Saturday, November 24, 2018 - 12:30pm - 4:30pm
- Location: 88 Noble Ave, Red Deer, AB
- Phone: 403-396-9940 for info
Limited Class Size - Preregistration required
More classes may be scheduled as needed

Stained Glass for the Beginner: Suncatcher Class $160
WEEKEND CLASS - December 1, 2 - 12:00pm - 5:00pm
- email info@mirogegallery.com or
- call 403-396-9940 to register
EVENING CLASS - 4 sessions 2 evenings/ week
Tuesday & Thursday 7:00pm - 9:30pm
2018 - Nov 13, 15, 20, 22
2019 - Jan 8, 10, 15, 17
- Location: 88 Noble Ave, Red Deer, AB
- Phone: 403-396-9940 or
- email info@mirogegallery.com for info
Limited Class Size - Preregistration required

BLACKFALDS CLASSES for WINTER 2019:

Stained Glass for the Beginner: Suncatcher Class
- 4 sessions 1 evening per week
- Starts Thursday, January 31, 2019 - 7:00pm - 9:30pm
Register with Blackfalds Recreation Department
Abbey Center, Town of Blackfalds, 4500 Womacks Rd
403-885-0157 for further information.
Limited Class Size - Preregistration required



Nanaimo Orders:
We still visit Nanaimo a couple of times per year, so if you're wanting to place an order, please email us at info@mirogegallery.com to find out when our next trip is planned... it may save you a freight charge!

RECENTLY FINISHED WORK WITH CUSTOMER ENDORSEMENT
STAINED GLASS ART PANEL by Janice Fischer......

Endorsement by Gloria Abbott:

"Roaring Glory" is home! Anyone interested in having a stained glass work done, contact Janice DeBucy Fischer. www.mirogegallery.com Check out her Facebook page, too! www.facebook.com/mirogegallery She does excellent work and was in communication with me for the entire process of creating this masterpiece. We discussed details like what pose I wanted, colors for the lion, background, even type of glass she planned on using. I sent her a photo I liked and she sent me a preliminary sketch and took it from there! Very reasonable cost, too!
Stained glass maintenance tips:
To return the lustre to your stained glass item - buff it with some Turtle Wax on a soft polishing cloth.
If your stained glass suncatcher has been hung using fishing line, the line should be changed annually as it loses integrity with prolonged exposure to the sun, and may break, causing damage to your glass art.

PAST WORKSHOPS:
Spring 2012 - Beginner Stained Glass workshops held at Jonanco Hobby Workshop, Nanaimo, BC. Check out the pictures below!


Cutting Glass Grinding Foiling


Soldering
FINISHED PRODUCTS


Stained Glass Workshops:


Next Beginner Stained Glass workshop - Saturday, October 20, 2018.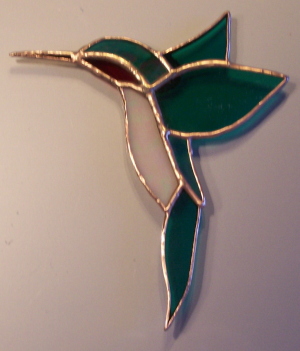 In the Beginner Basics Class, you will learn how to make one of the ornaments shown above from start to finish. The workshop is approximately 4 1/2 hours and limited to 3 participants per session, so register early to ensure your place! For information on our workshops - email us at info@mirogegallery.com.

ARTISTS AND PRODUCTS:
Presenting: Reproductions of gorgeous HAND PAINTED SILKS by our newest fabric artist: CYDNEY MARIEL GALBRAITH....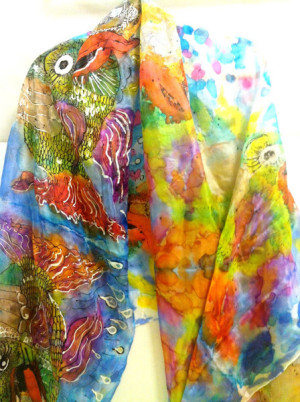 Cydney's artwork is listed under the FABRIC ART section of our gallery... her beautiful art work graces worship flags, and various clothing articles, such as: scarves, shawls, dresses and tees.

If you're into PHOTOGRAPHIC ART, check out our PHOTOGRAPHY section featuring Roger deBucy.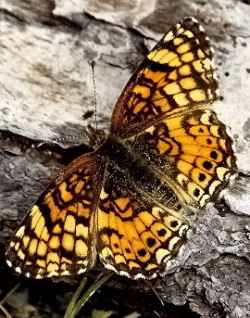 If you go to "Check out our Artwork, then click on Woodworking, you will see Roger's beautiful burl bowls.. such as this gorgeous hemlock bowl shown below! All of Roger's bowls are food safe.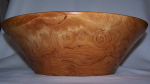 LOCAL RED DEER AREA OUTLET:
MIROGE GALLERY & GIFTS




88 Noble Avenue


Red Deer, AB T4P 2H5
Feature items: Stained glass sun catchers, and other glass art, jewelry, wooden bowls, stained glass supplies and much more!!!

NANAIMO AREA OUTLETS :
NEWFOUNDLAND TO NANAIMO
Pioneer Waterfront Plaza
Unit 1B, 90 Front Street, Nanaimo BC, V9R 5H7


Feature items: Freestanding Stained Glass Sailboats, Coastal Ornaments and Sand Dollar

Diamonds
YELLOW POINT ART GLASS GALLERY


3272 Roper Road
Ladysmith, BC, V9G 1C4


Feature items: 3D Hummingbirds, 3D Dragonflies, and Sanddollar Diamonds.
PURCHASING INFO


We accept Visa and MasterCard for our online purchases; and Cash, Cheque, Visa and MasterCard at our physical studio location.
JOIN US!!!
We are working at developing this website into a CANADIAN HANDMADE marketplace. We are looking for Canadian associate artists to participate in selling their artwork through our ecommerce gallery. We are accepting art work in a variety of media for this on-line gallery. Any work being advertised by associate artists on this site should be a finished work and ready to ship. Only art with positive components will be considered.
For more details or to have your work juried in, please contact us at: info@mirogegallery.com
Be sure to attach samples of your work, or provide the web address where your work can be viewed for consideration. If your art doesn't fall into the categories listed below... please don't let that stop you from contacting us... We just didn't have pictures to express it all when we started out...