Click to view larger image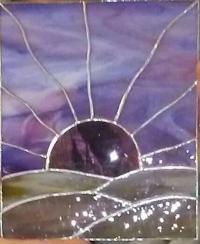 Click to view larger image
CLASS - Beginner Stained Glass - Suncatcher
(CLBSGSC1)
Price: $238.10
Shipping: $0.00
$0.00 shipping handling for additional CLASS - Beginner Stained Glass - Suncatcher
BEGINNER STAINED GLASS - SUNCATCHER
Suncatcher Workshop
Location: Red Deer, AB
2020 Dates:  Jan 18 & 25; 
                     Feb 8 & 15;
                     Mar 14 & 21
 
Age Limit: over the age of 18 only 
Instructor: Janice Fischer
This workshop is approximately 10 hours in duration (2 consecutive Saturdays).  You will receive instruction to take you through the basics of making a suncatcher, which you will take home at the end of the class. The class is based on the Copper Foil Method.  You may choose what you want to make from the 4 different suncatchers shown. Materials are supplied. Please indicate in a separate email which course date you prefer, and the suncatcher you want to create.  Class size is limited, so preregistration is required.  Please email info@mirogegallery.com or call 403-396-9940 for additional information and registration forms.  Course fees are subject to GST, which is automatically applied during checkout... Total course fee including materials and GST is $200.