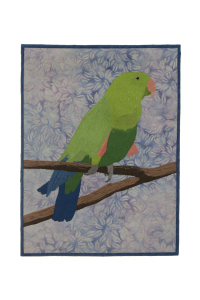 Click to view larger image&nbsp
A Fine Feathered Friend
(FALRFF21)
Price: $35.00
Shipping: $25.00
$10.00 shipping handling for additional A Fine Feathered Friend
A FINE FEATHERED FRIEND by Fabric Artist Lori Rapati

Size: 21" high x 16" wide

Are you a bird lover? or do bright colours attract your attention? This large eclectus parrot shows off his bright green plumage accented with shimmering organza. He is a friendly pal to have around, and will brighten any room. As the same fabrics are not always available, actual product may vary slightly from picture. Lori's Fabric Art items are available only in Canada.